Clients Say It Best!
Fuel and Emissions
<click on a category to see case studies>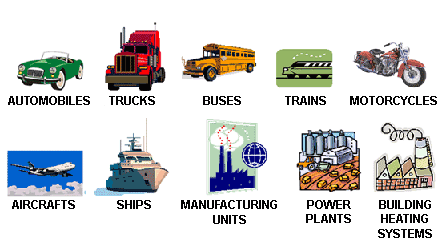 Notes
1 - Some case studies will state performances in any one or both of Clients interests: Fuel Savings, or only GHG Emissions or both...

2 - Dates of case studies will be out of order as we intended to show performances accomplished in specific categories, not a pattern of dated installations.



---
Refrigeration/Air Conditioning
Major Donut Chain (Krispy Kreme)
"A/C - Refg savings 41%."
Seafood Company - Blast Freezer (Gulf Crown Seafood Co)
"After installation/dwell period, the system became so efficient that the primary compressor and 1 of the secondary compressors could handle most of the cooling load, and the 3rd compressor ran a little on occasion, and the 4th compressor did not run at all. Installation took place on the coldest time of the year with a 26.7% savings. The efficiency improvement for the summer cooling load, which is the greatest, could exceed 35%."
Supermarket Refg
"20% Power savings, 28% increased production"
Oak Ridge National Laboratory (ORNL)
"Primary chiller able to handle load without help of secondary chiller - a 31.6% savings. "
Louisiana State University - Office Bldg
"2x 50 Ton reciprocating chiller units with 24% savings and 25% savings."
Bethwood Resturant, New Jersey
Reduction of 23.9% AC and 24% Refg.
Actual analyses
Customs House/Homeland Security (Tampa, Fla)
23.5% averaged savings - 2009
(Utility/Tico verified a 20% reduction in usage, also put client in a lower rate classification because of savings generated - 2010)
---
Accolades
American Landmark Properties - Presently:
"Been using services of Dr George Molteni, The Energy Group since April 1997. Facility is a corporate office building with high profile tenants, (IBM - Pitney Bowes - Ceridian - Atlas Copco). Dr George provided us with an initial energy audit for each tenant and currently provides monthly energy readings and detailed yearly energy audits. My staff and I are pleased with the work and professionalism displayed by Dr George/The Energy Group."
Equitable Adjustment Service Inc:
"We would recommend The Energy Group to other businesses. Dr Molteni, who I know for 20+ years, is the consummate professional who is not only extremely knowledgeable in his field, but also most conscientious in seeing his client satisfied".
Harold H Goldberg Co:
"Known Dr Molteni for several years and The Energy Group handles all of my energy auditing concerns, including surveys of energy consumptions throughout a property and complete breakdown of individual tenants consumptions as well as common area share. His surveys are complete, useful and easy to understand since tenants are being charged back. I would certainly recommend and often do Dr Molteni's services to my colleagues and business associates".
Energy Director - Newark Housing Authority:
"Wow! What a meeting (lasted approx.. 3 hrs). I'm rarely so impressed as I was today with you (The Energy Group). You've got a terrific approach and one that I feel is best for this agency. I also appreciate your flexibility in offering to provide us service in a variety of ways. I am definitely interested in your formula for determining bad demand charges. Concerning the deliverables, you're absolutely correct, what I need is "stupid and simple" solutions that I can pass along to the next guy. After you left, I met with the President of (major recognized utility accounting software company). I still don't think his normalizing baseline and tracking program has the level of detail as " the Doctor's". In any case, no one is going to be able to obtain the benchmarking and quality of info you obtain in your audit. You've truly got a unique approach."
Some of Our Clients
(to name a few)
Fuel Savings
Audits/Commissioning

City of Horezu, Romania
Kiev, Ukraine
Merck & Company
Kean College
NJ American Water Co.
PSE&G
Beth Israel Hospital
City of Fort Worth, TX (350 units)
Long Island Lighting Co. (Lilco)
JCP&L
Entenmann's Bakery
Kraft Foods
Senator R. Littell, NJ
American Airlines
Bell Atlantic
Washington DC Complex
GPU Services Corp.
University of Chile, Santiago
Singapore Taxi Service
TNT Red Star
Sithens Real Estate
Trenton Diesel
Penzoil Corporation
NASCAR
National Hot Rod Association
Blue Thunder Racing Team
Aurora Township, IL
Bolingbrook Township, IL
Fleet Maint. & Safety Report (Article)
Polymer Plant - Singapore
The War Eagle (Yacht)
Michael Brennan (Yacht)
Singapore Bus Co.
Dean Gulick (7D) Race Car
Union Pacific Resources
Victory/United Van Lines
Franklin Township, NJ
Argo Tours, S.A. (m/v Islamorada)
Wagner Tours & Travel

Siemens Energy/Automation, Inc.
Hotel Lexington/Taj Int'l
St. Josephs Medical Center
Fenway Country Club
Bed, Bath and Beyond
Loreal/Cosmair
Kearfott Navigation
Setco/McCormick Spice
Harold H. Goldberg & Co.
Sitar / Polevoy Assoc.
WNY Management Corp.
White Plains Medical Center
Beloit Memorial Hospital
Swepco Tube Corporation
Hypro Corporation
Alcan Powders & Pigments
Marcon (Marvin Windows)
Viracon/4 (Apogee Corp.)
Wykagyl Country Club
Ponderosa Steakhouse
Nassau County Correction Center
The Bethwood Restaurant
Jaiya Rest
Readington Roadhouse
Stony Hill Inn
Montville Corporate Center
Equitable ADJ. Serv. Inc.
IBM / Ceridian
Marshalls Smoked Fish Co
United Malaysian Banking Corp (Malaysia)
JFR Global Investments
Chuang Yen Monastery
American Landmark Properties
* Parsippany R/E Associates
* Princeton Park Corp Ctr
* Two Gateway Center
Lodi Housing Authority / HUD
<Heating Energy Audit - 220 units + Admin. Building>
* EPA (results affirmative)
* Dept of Transportation, New Jersey
* US Navy
* US Army
* Picatiny Arsenal Energetic System. Process Div. NJ
* The Energy Group
* Schotz Auto & Industrietechnik (Germany)
* Purdue University
* Better Roads Magazine (2 articles)
* Duke Energy
* Wyoming Department of Environmental Quality (WDEQ)
* California Environmental Protection Agency
<Calf. Vehicle Code: Calf. ARB Executive Order - D612>
* Toledo Edison
* Florida Power & Light
* City of New York
* University of Malay's Dir of Elect. Eng.
* Tenaga Nasional Power Co.
* PSE & G

(*)Reviewed, Lab Tested & or Installed
Installations
(to name a few)

Wilson Sporting Goods • Kraft Foods Inc. (All American Gourmet) • Department of HUD • Tenaga Nasional Electric Co. (Malaysia) • IGA Supermarkets • Friars Executive Offices • McDonald's • Days Inn • Maryland Farms Country Club • Natachaug Hospital Inc. • Cleveland Browns Stadium • United Jersey Bank (now Summit Bank) • Quality Inn• LaFe Clinic • Pillsbury/Filmico Food • Philips Electronics • Bendix/Allied Signal • General Electric • Becton Dickinson • Burger King • Paper Direct • Bethwood Restaurant • US Army • Dixie Limestone Inc. • Western Auto Stores • The Press Sentinel • Addco Millworks • Best Buy Tortilla Factory • Wagon Wheel Shopping Center • A&M Laundromat • Hanley Paint Co. • MFI International • Southern Tech Plastics • Transworld Banks • State of Qatar • Strike and Spare Bowling • DC Health and Hospitals • NJ Bell Atlantic • Duke Energy (Baxter Station).