Building Heating Systems
Washington, DC General Complex
Installed (5) Stabilizers in 1995. Were installed on (5) 1.000 HP water tube boilers using #2 fuel oil. Fuel oil flux analysis for FY 98 vs 97, gave us a savings of $321,063.12 (an ROI of 1,148%). and FY 99 vs 98 a savings of $247,999.44 (an ROI of 887%). (March 30, 2000) - DC Actual Analyses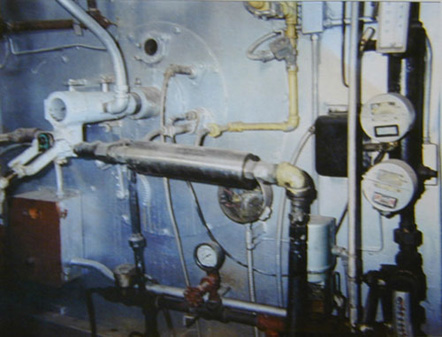 Boilers - New Jersey Bell Atlantic (Verizon)
Weil Mclean rated @65 HP. (Emissions Results)
Boiler # 1
Temp
O2
Excess Air
CO2
CO
Combustion
Efficiency
Before (Nov 15/95)
518
14.95
215
12.85
22
61.20%
After (June 5/96)
426
3.9
22
4.8
8
85.40%
%
---
-74%
-90%
-63%
-64%
40%
Boiler # 2
Temp
O2
Excess Air
CO2
CO
Combustion
Efficiency
Before (Nov 15/95)
554
15
228
7.1
341
60%
After (June 5/96)
523
11.5
113.2
4.6
32
73%
%
---
-23%
-50%
-35%
-91%
22%

Average Fuel Savings: 31%
Pre-Stabilizer
Post-Stabilizer

Degree Days
1995
Gals
used
K-Factor
845
3,057
.2764147
953
3,568
.2670964
1,798
6,625
.2713962
Note: 3.684 Gals/per degree day



Degree Days
1996
Gals
used
K-Factor
1,091
2,451
.4451244
986
2,823
.3492738
2,077
5,274
.3938187
Note: 2.539 Gals/per degree day (31.0% less fuel used per degree day)
Notes:
Gals would have been used = 7,653 or + 31.1%
Degree Days increased by 279 days or + 13.4%
Actual Gals used decreased by 1,351 or - 25.6%
Gals per Degree Day decreased by -1 or -45.1%
Analyses done by Dr Nasr - (Oak Ridge National Labs)
Boilers - Major Telephone Co
"Less fuel used per day. 31% fuel savings."
Boiler Univ / New Jersey
Kean Actual Analyses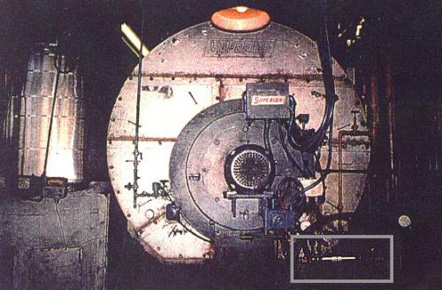 "26% savings realized in fuel consumption."
Boiler: Gas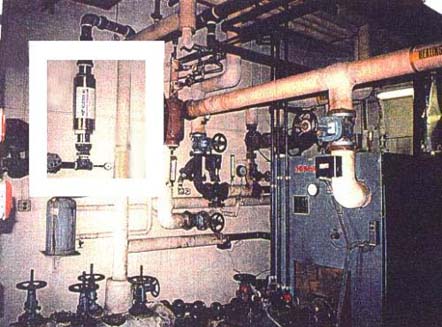 "Savings @ 16%."
School System
East Chicago School System - promised a "guaranteed" savings of 6%, delivered final results of 27% fuel reduction. "don't know how it works, but it saves the district lots of money." District so impressed that they ordered additional units for installation...
<17% natural gas savings>
Therms decreased dramatically by 19,099 or 12.5%
Boiler efficiency increased by 6.6% (units are our G-140F - 4 inch unit)



Video made of ABC/news-Chicago (Sept 2003) story on bus pollution and installation of schools boiler system with comments by facility engineer and superintendent of schools.
US DEPT HUD / Housing Authority (2004)